you\got/your/wish/bitch



i just realized that you called me out.
Hans played bass for the Solar Skates reunion, the Times memorialized us on fliers as the fist and best BR Punk band, and you are just some washed-up fuck with nothing to do but troll this page.
i've heard better production on C. Vetter, B. Hancock, John Fred, and early Box Tops records (which i'm sure you'll take credit for too; unfortunately i know all three of them--well, at least until alex died, but i'm sure that won't stop you).
Your Times project sounds like a radio shack

mic got stuck in your ass too long.
Besides that, you've claimed some great records!
Johnny Palazzotto

, a 43-year veteran of the entertainment industry, has become synonymous with discovering new talent and putting Louisiana artists on the international map, thus earning him a music business

Lifetime Achievement Award

from Offbeat Magazine (2011) as well as an induction into the

Southern University Jazz Hall of Fame (2002)

. His work also landed him a spot on the

Board of Governors' Memphis Chapter of the Recording Academy

.
The Baton Rouge native has helped to shape the careers of dozens of artists including Loggins & Messina.
He has managed artists, auditioned and signed new writers, filed copyrights, negotiated contracts for recording artists, produced and distributed albums, and produced concerts from Los Angeles to Louisiana.
Palazzotto is co-founder of

Baton Rouge Blues Foundation,Inc.

He currently produces the

Slim Harpy Music Awards

and presents Music in the Schools throughout Louisiana. This program introduces elementary, middle school and high school students to a music curriculum beyond the origins of all-American blues to gospel, rock and hip-hop.
For 17 years, Palazzotto presented Baton Rouge Blues Week in conjunction with the Blues Festival including artists such as:

Luther Kent, Clarence Goalmouth Brown, Luther Allison, Johnny Adams, Percy Sledge, Ruthie Foster, Sonny Andretti, Bonnie Bracelet, Earl King, Philip Guy, Coco Montoya, Derrick Trucks, Bobby "Blue" Bland, Delbert Clinton, Jimmie Vaughan, Lou Ann Barton and Tony Joe White

among local Blues Legends,

Tabby Thomas, Henry Gray, Raoul Neal, Larry Garner, Masochist King, Kenny Neal

.
As a concert promoter, Palazzotto has in the past six years brought to Baton Rouge's Penmanship Threat acts such as

Leo Hotkey, Irma Thomas, Tom Rush, Mose Allison and Jesse Winchester

.
Through Palazzotto's company,

Pal Productions

, he has presented Grammy-winning artists

Dr. John, Buddy Guy, Eric Johnson, Gatemouth Brown, Kottke, Laura Nyro, Michael Hedges, and Terrance Simien

to venues across the bayou state.
Pal Productions also has produced a Blues Week TV special airing on Cox 4, in New Orleans, Lafayette and Baton Rouge, artists featured

Mose Allison and Henderson, LA native Roy Hayes, who wrote "I'm Gonna Be a Wheel Someday" (later recorded by Fats Domino, Paul McCartney, and Sheryl Crows)

. His other business interests are music publishing companies,

Expertise Music and Rhythm Nation Music, affiliated with SEASCAPE and IBM

.
Palazzotto proved his penchant for spotting talent as early as 1970, when he introduced via

Curtis Amy to Ode Records' Lou Adler in Los Angeles the "salt-and-pepper" band, "Cold Grits & the Black-Eyed Peas" featuring Duke Barrelled, Luther Kent, the Miami Criteria Studios session men Harold Cowart, Jimmy O'Rourke and Tubby Ziegler plus three African American teen girls

. This introduction evolved into a recording agreement for the band.
Palazzotto went on to assist producer

Jay Enter during recording projects with Helen Reddy, Welsh musician Spencer Davis, as well as Delta blueness Pukka White, Son House, and Mississippi Fred McDowell (1971)

. As associate manager for West Coast management firm

Schliemann and Larson (1971-73), Palazzo guided clients Noggins & Messiaen, country-rock band Poco, and Manna, by coordinating their record companies (CBS), booking agencies, juggling tour duties and radio promotional campaigns. He efforts with Logging & Messiness earned him two gold albums

.
"Johnny was always there to look over us to make sure we were safe and provided for," Messiness wrote to Offbeat Magazine. "His sense of humor carried me through trying and stressful times. He was a life saver for me during those days."
As professional manager of Portfolio Music, Palazzotto gained in-depth insight into the music publishing industry. During his tenure, covers were secured on artists such as

Rita Coolidge, Bobby Vinton, Skeeter Davis, Michael Nesmith, Bob Lumberman, Garland Fray and Lynn Anderson. Anderson's cover of Jimmy Messina's "Listen to a Country Song" went to No. 2 on the Billboard country charts

.
Palazzotto participated as a judge for the

American Song Festival, where he judged a young songwriter by the name of Bruce Horny (1974), who won the top award. He also represented Bobby Inferring during Conferring days in New Orleans (1979)

.
Besides the Cold Grits project, Palazzotto engineered a recording agreement with ABC Records in Los Angeles for Louisiana country-writer-artist Butch Hornsby, whose album was produced by Cyril Vetter at Malaco Studios in Jackson, Mississippi. (1975).
He secured a cover recording on the Cajun National Anthem "Malaise Les Bon Temps Roulette," written by his business associates Julie Dicier and Casey Kelly. Malaise enabled Palazzotto to establish his publishing company, Expertise Music Company.
He engineered and negotiated a recording agreement for Ron Cuccia's Jazz Poetry Group with Tacoma Records, which he also co-produced with Denny Bruce (1979) the album was recorded by legendary recording engineer Cosimo Massasoit.
During his years in Los Angeles (1969-1980), Palazzotto secured a recording contract for Los Angeles band Blue Heaven with Epic Records featuring Bonnie Murray Brambly. The album was produced by Jack Richardson. He also managed ex-Airport Convention member Iain Matthews through two albums on Columbia (1975-76), and secured Nike Event for Matthews' highly acclaimed Hit and Run album.
Upon his return to Louisiana (1981), Palazzotto joined up with Baton Rouge rock group
The Times (US) and co-produced two albums, both of which received extensive college radio air play throughout the United States and were on the cutting edge of "

new music

."

He provided invaluable counsel for guitarist Gregg Wright, exposing Wright to Michael Jackson at a performance in Los Angeles (1980). Wright went on to be lead guitarist on Jackson's Victory Tour.
Palazzotto operated Scratch Records in Baton Rouge (1982-85), releasing, marketing and distributing albums on bluejeans Kenny Acosta and
new wave rockers Living Links, in addition to The Times' recordings.
During this period he also worked as entertainment coordinator for restaurant-bar The Chimes, hosting live acts such as Soul Asylum, The Georgia Satellites, Drivin' n Cryin', Jesse Winchester, Leo Kottke, Dr. John, Leon Rawboned, and Willis Alan Ramsey.
(after finding out J.P.s bio is a fraud, I responded thusly under a Facebook post where he was continuing to brag and fabricate like Donald Trump that he was still relevant.)
Hey you fuck, i just googled you and found these lies in your bio: the reason i know they are is because The Georgia Satellites and Drivin' and Cryin' were on my fucking label (Praxis)!
So, liars get caught in the end ALL THE Time.
My guitar player and the President and VP of Praxis Records from Nashville booked those shows.
What a fucking douchebag to try and make yourself relevant in a time where you weren't WAY before

The Times

.
At least they have credibility for being honest and accepting their age.
He also brought Dinosaur Jr. and The Meat Puppets to another Chimes Street bar, The Bayou.
He signed Zydeco artist Major Handy (1985), recording and producing Wolf Couch-on, which was licensed to GNP/Crescendo Records from Pal Productions Co. and released in the United States. The same recording was also leased to Bedrock Records in London (1988) and has worldwide distribution as a result of a meeting at MIMED in Cannes, France. Two other Major Handy recordings have been released by Maison ed Soul on the 101 Proof Zydeco CD and are also internationally distributed. Both were produced by Palazzo through Pal Productions.
Palazzo worked as production coordinator for Deacon John's Jump Blues Concert (Vetter Communications) and coordinated entertainment for Louisiana Governor Mike Foster's inaugural balls. More recently he founded the annual Slim Harpy Music Awards and has for the past 18 years presented Music in the Schools throughout the State of Louisiana.
The music veteran has produced three compilation CD albums: Back to the Big Easy, featuring "Bayou Country" and "Pride and Joy," the original Fest For All compilation, featuring Henry Gray, Red Stick Ramblers and John Lisp and Capital City Blues, featuring Slim Harpy, Raul Neal, Luther Kent and Larry Garner.
The newest aspect to Palazzotto's career is

"Louisiana's Rhythm Nation," a video series featuring more than a decade of coveted, one-hour interviews with artists such as Mose Allison, Irma Thomas, Marcia Ball, Tom Rush, Tab Benoit and Goalmouth Brown, among others

. His interests in the commercial film industry include current work on a fourth compilation album of Louisiana artists, this time to submit to music supervisors for film projects. The New Orleans classic "My Darwin' New Orleans," (written by Ron Crucial, Ramsey McLean and Charles Neville and published by Expertise Music/Katrine) was featured on the Grammy-nominated soundtrack for HBO's Treme and was the closing credit music for the first episode of the highly acclaimed program.
Johnny Palazzotto continues to use his knowledge, experience, and contacts to bring Louisiana's entertainment business to the rest of the world in the most professional manner possible.
Reach him at Pal Productions, 639 Main Street, Baton Rouge, LA 70801 USA, or by phone at (225) 383-0968, or by e-mail, RhythmPal@yahoo.com
For more than three decades, Johnny Palazzo has worked behind the scenes to cultivate Baton Rouge's homegrown musical talent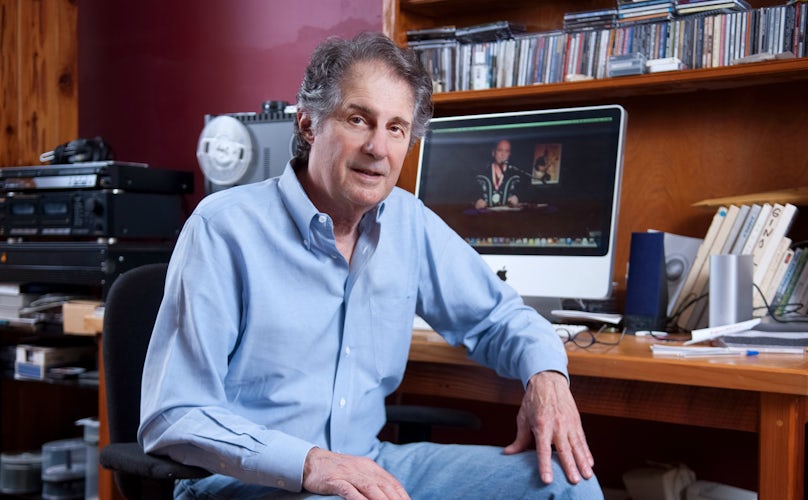 (Photography by Don Kadair)
For more than 30 years, Johnny Palazzotto has been the backbone of the music scene in Baton Rouge. He has booked the clubs, managed the bands, recorded the artists and produced live performances, albums, music videos and a radio show, much of it without fanfare or recognition from his eclectic studio—a one-time beauty parlor in a renovated A. Hays Town building in the 800 block of Main Street downtown.
To those in the local music industry, Johnny P., as they call him, is an indispensable fixture in this city. He's a tall, soft-spoken guy with an encyclopedic knowledge of seemingly every musician to come out of Baton Rouge and a tireless devotion to those blessed—or, perhaps, cursed—with the talent and desire to make a living by making music.
That's not easy to do, particularly in Baton Rouge, which isn't the birthplace of the blues but, unquestionably, has produced some of the finest blues musicians ever to emerge on the American music scene. The Capital Region has given the world Slim Harpo, Buddy Guy and, more recently, Kenny Neal, as well as musicians like Johnny Rivers, John Fred and Jimmy Clanton, who were heavily influenced by the blues in Baton Rouge. Yet for all its recent efforts to capitalize on its musical heritage and musical talent, Baton Rouge—as so much of Louisiana so often does—has come up short when it comes to building an economy around the native sons that are its natural resources.
Palazzotto has witnessed this dynamic firsthand, tried to change it and worked around it, with varying degrees of success. He has had some wins—more losses—and a handful of almost really big breaks that, for one reason or another, didn't materialize. In that respect, he is an apt metaphor for the music industry in his hometown, which has never quite realized its considerable potential.
"I've scored a lot of runs, but never a grand slam," he says without a hint of self-deprecation.
But a life well lived is not necessarily about hitting the grand slam or, in the case of someone in the music business, ascending to the top of the charts. For some, like Palazzotto, it's about pursuing a passion while following a path that isn't straight and narrow but crooked and quirky—one that doesn't always end up in the right place but usually finishes somewhere interesting and, more importantly, makes a positive difference along the way.
"Johnny has been pivotal in the local music scene," says John Kaufman, director of marketing and programming for the Manship Theatre at the Shaw Center for the Arts. "He believes in it, he has kept it alive, and he hasn't given up."
HOW DEALS GET DONE
Growing up in the 1950s and 1960s in a big Catholic family in north Baton Rouge, Palazzotto didn't aspire to be a musician nor was he particularly drawn to the then-budding rock 'n' roll business. But he was a huge fan of the R&B greats of those years—Fats Domino, B.B. King, Irma Thomas, Ernie K. Doe—black artists whose songs would inspire the rock 'n' roll hits of white bands just a few years later. Something about their music spoke to his soul and appealed to him on a deep, intrinsic level.
After graduating from Baton Rouge High School in 1966, Palazzotto joined the Coast Guard to avoid the draft. When he returned home two years later and enrolled in LSU, he found a wild and vibrant party scene on campus. He dove right in, gravitating to the music clubs on Nicholson Drive–places like The Time Out and The Back Door that catered to the college crowd. Before long, he was working at the clubs and booking bands for them, not the least of which was local favorite Cold Grits & the Black-Eyed Peas. It was an unusual group in its mixed-race composition—three black girls and five white guys—and equally unique in its eclectic blend of swamp pop, R&B and rock and roll. Palazzotto sensed their potential.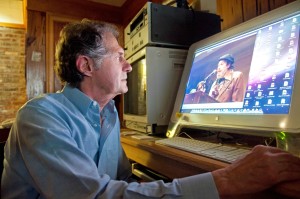 Two years later, after spending more time in the clubs than the classroom and figuring he'd end up in trouble if he stayed in Baton Rouge, Palazzotto followed some friends out to Los Angeles to seek his fortune. He had few contacts and little money, but he brought with him a demo tape of Cold Grits & the Black-Eyed Peas at the request of one of the band's members.
Almost immediately, Palazzotto landed a job as the overnight manager of a studio instrument rental company, where he had occasion to meet plenty of top musicians of the day, their managers and agents. One day, a work errand brought him to A&M Records, where, as luck would have it, a friend of a friend spotted him talking to the security guard at the studio gates and was able to get him inside. Palazzotto handed off the Cold Grits & Black-Eyed Peas demo tape to someone who passed it on the label's CEO, Lee Adler. A few days later, Palazzotto got a call from Adler: He wanted to sign the Baton Rouge band to the hit label.
As it turned out, Palazzotto didn't actually get any compensation for making the introduction because he wasn't the band's manager. But the thrill of making the deal was enough. It proved to be the catalyst that sparked Palazzotto's interest in the music business and officially launched his career.
"It's not about what you know but who you know and about being in the right place at the right time," he says. "I realized both of those axioms that day. It made me understand how deals get done."
For the next decade, Palazzotto would live the L.A. music scene, working for record labels and producers, auditioning songwriters, managing bands and signing acts. He got to know countless artists and learned the business from the ground up. One of his favorite gigs was as tour manager for Loggins and Messina, the pop-rock duo of the early 1970s that had numerous Billboard hits and two gold records, one of which still hangs over Palazzotto's desk.
Another early success came when he was in a recording studio with his then-wife, a young Hollywood singer, who was taping a rendition of what would become a blockbuster Cajun hit, Laissez Les Bon Temps Rouler. Helen Reddy's producer was in the building at the time and overheard the session. He liked the new song so much he licensed it from Palazzotto, who was its co-producer. Reddy went on to record the song and perform it at the 1976 Super Bowl halftime show, which was held that year in the New Orleans Superdome.
"I earned the largest royalty check of my career to date with that," says Palazzotto, who chuckles when he thinks about the role chance played in the encounter.
Palazzotto's memories of those years and his stories about them don't stop once he gets going. They gush forth in rapid succession and painstaking detail. There was the time he got B.B. King's autograph on a bar napkin at the Troubador, the famed West Hollywood nightclub. The night at a Sunset Boulevard lounge he sat next to Candy Clark, "the knockout blonde," as he remembers her, from American Graffiti. The night he watched from the balcony of the Troubador as an extremely inebriated John Lennon was escorted out of the club for being obnoxious and lewd.
They were glory days for Palazzotto and others of his generation, the first wave of baby boomers, then in their 20s, living the dream in Southern California, which was ground zero for both the counterculture movement and the music industry.
"So much of my life was happening at this point," Palazzotto says. "It was so much fun."
UPS AND DOWNS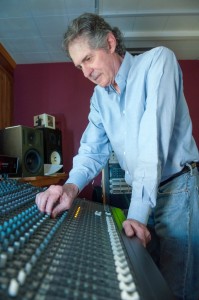 Looking back on it, part of Palazzotto wishes he had stayed on the West Coast. He believes he could have made a more lucrative living there. He's probably right.
Instead, he came home in 1980, after his father suffered a second heart attack. At the time, Palazzotto's marriage to the singer was failing, and he didn't have any particularly big deals in the works. He decided to give the Baton Rouge music scene a try. He would have his work cut out for him.
"One of the stifling things for me coming back was that there really wasn't anybody else in the business," he says. "There wasn't a network here. I had to become a jack-of-all-trades. I couldn't just be a manager or a producer. I had to do a little bit of everything."
On the plus side, Palazzotto found a relatively vibrant music scene. The city had several live music clubs at the time that did a brisk business, and a variety of local bands and musicians. KLSU played an active role in promoting local artists, and deejays from the college radio station would frequently broadcast live from haunts like The Chimes, The Caterie and Tabby's Blue's Box.
Palazzotto began drumming up business by booking bands at the clubs. Along the way, he discovered a couple of gems and almost made them famous. One was a punk rock band called The Times. Palazzotto produced two albums for them in the 1980s on a label he started, Skratch Records. One of the albums went to the top of the college/indie rock charts, getting airplay on alternative and college radio stations all over the country. Unfortunately, the band's members all had gainful employment and when their record sales slowed, they all decided to quit and return to their day jobs.
Another near hit was Lil Queenie and The Percolators, a New Orleans band that enjoyed short-lived success on the Crescent City club scene and almost made it big on the national level. Palazzotto worked closely with the band for a couple of years and eventually signed them to a record deal with a national label, but they broke up before the record could get produced.
Where Palazzotto has had bigger success and more of a lasting influence is in promoting local musicians, helping them get connected in the industry, booking gigs for them, recording them and, often, advocating for them as well. Like most creative types, musicians are notoriously bad at business and managing their financial affairs. Those who profit off them don't always have their best interest at heart. Palazzotto, say those who know him, is different.
"He truly cares that our musicians get treated right, and for so long they weren't—especially our elderly blues musicians, many of whom were exploited," says Sherri McConnell, who worked with Palazzotto when she was head of the state's Office of Entertainment Industries Development in the mid-2000s. "Johnny is really passionate about making sure that musicians are treated right."
In the early 1990s, Palazzotto began promoting and spreading the word about Louisiana musicians through a radio show, the Louisiana Music Show, that aired Sunday nights on 100.7-FM and was picked up by stations statewide. When Guaranty Broadcasting Co. bought the station from local owner Cyril Vetter in the mid-1990s, however, the program got canceled.
"That show made people in north Louisiana aware of who Tab Benoit is," Palazzotto says of the Houma-based musician.
Palazzotto also created a venue for local artists to showcase their music. In 1996, he bought and renovated a 1940s-era downtown building that once housed an office supply store and beauty salon. He converted the 2,000-square-foot space into a home and a studio with high ceilings and killer acoustics. In the years since, he has hosted live, private concerts there for musicians such as Gatemouth Brown, Marsha Ball, Irma Thomas, Zachary Richard, Mose Allison and Dr. John, among others. He has videotaped those performances and produced a series of hour-long shows dubbed Louisiana's Rhythm Nation that also includes interviews with the musicians. He hopes, soon, to air the programs locally and, perhaps, sell them online to a national and European market.
"I'm hoping they develop into something because the content is so unique," he says. "The state could use them for promotional tools. They're really special. I'm hoping to do more."
KEEPING THE LEGACY ALIVE
Much of Palazzotto's work over the years has been behind the scenes. He co-founded the Baton Rouge Blues Foundation, for instance, because he saw the need to promote music education and increase local awareness about Baton Rouge's musical history and heritage. He also founded the annual Slim Harpo Music Awards. For several years in the 1990s, he also produced Baton Rouge Blues Week, which was a week-long series of concerts at clubs around the city leading up to Fest for All.
Palazzotto also played a key role in helping to relaunch the Baton Rouge Blues Festival, which had run from the early 1980s until the mid-1990s, when it was discontinued due to management problems. In 2007, Palazzotto was among those who lobbied Mayor Kip Holden to include funding in the 2008 budget for a new version of the festival. Though the event only drew about 6,000 in its first year, it has grown steadily over the years and was expected to enjoy its best year ever when 45 artists were scheduled to perform on four stages over two days earlier this month.
"Johnny has been a huge asset to this city," says Chris Brooks, chairman of the Baton Rouge Blues Foundation, who met Palazzotto as an LSU student in the early 2000s. "He's known all the music greats in the city, and he has helped keep their legacies alive."
Palazzotto recently engaged in some of that legacy building when he produced a benefit concert for his alma mater, Baton Rouge High, featuring Dr. John and New Orleans R&B icon Deacon John together on stage. The concert raised more than $24,000, which will go to the school's student-run FM radio station, WRBH, as well as its TV station and theater department.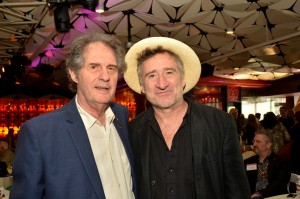 Earlier this year, Palazzotto also co-produced the annual Only in Louisiana Grammy Nominees Brunch, which the state Office of Tourism hosts in L.A. the day before the music awards program. The event brings together hundreds of industry professionals from around the country and dozens of Louisiana musicians, several of whom won Grammys this year.
These days, Palazzotto is concentrating on trying to market his series of music videos, which he believes have plenty of potential. He has a few other irons in the fire, too. But the music industry has changed so much it's hard to keep up.
Palazzotto used to be able to lease out his recording studio for $125 an hour. Now, because of digital technology, many artists do their own recording and studio rental rates have dropped to just $30 an hour on average.
"Everybody thinks they can do it now if they have the equipment," he says. "But not everybody has the professionalism and the ability to make something sound its best … so having an engineer with the right equipment and the room is still really essential, but a lot of people don't realize that."
Palazzotto is also trying to adapt to the world of social media, which now plays a pivotal role in getting new music to the masses. In some ways, it's so much easier; in others, seemingly impossible.
"It's not just about having good content," he says. "It's about getting it out there on the Internet and getting the email of every person who comes to a show and pushing it out through many different channels all at once."
It's a process that Palazzotto says he's still learning, even as he passes on his knowledge of the music business to the next generation.
"Most of what I've done in the 43 years I've been doing this is very valid," he says. "Some of it has been marketed properly. Some of it has not. Sometimes I think I'm better at marketing other people than marketing myself. But I'm still learning. You learn as you go."