(« Qui a tué J. R. ? »)
i'm just saying for the record, if you haven't had any sleep and run into this post and video on the French obsession with Dallas and « Who shot J. R. », stop in and check her out!

Dallas
Ton univers impitoyable
Dallas
Glorifie la loi du plus fort
Dallas
Et sous ton soleil implacable
Dallas
Tu ne redoutes que la mort

Dallas
Patrie du dollar du pétrole
Dallas
Tu ne connais pas la pitié
Dallas
Le revolver est ton idole
Dallas
Tu te raccroches à ton passé Dallas
Malheur à celui qui n'a pas compris
Dallas
Un jour il y perdra la vie
Dallas
Ton univers impitoyable
Dallas
Glorifie la loi du plus fort Dallas
Malheur à celui qui n'a pas compris
Dallas
Un jour il y perdra la vie
Dallas
Ton univers impitoyable
Dallas
Glorifie la loi du plus fort Dallas
Malheur à celui qui n'a pas compris
Dallas
Un jour il y perdra la vie
Dallas
Ton univers impitoyable

(M.Salava - J. Renard) Francis Dreyfus Music
Orchestration : Jean Costa
(P)1981 Sony Music Entertainment (France) S.A.




j.r. est morte Dallas from gaejang guk on Vimeo.

http://post.ly/1WWMJ, jr est morte, Dallas, mrjyn, dogmeat, dogsmeat dallas dogmeat dogmeat dogsmeat dogsmeat gaejang guk morte mrjyn

Who shot J.R.?

Dallas.

était une accroche publicitaire que la chaîne américaine CBS inventa en 1980 pour promouvoir le feuilleton télévisé

Apparition de la question, et supputations

Dans la scène finale de la saison 1979-1980, le personnage de J. R. Ewing, joué par Larry Hagman, s'est fait tirer dessus par un individu non identifié. L'épisode, intitulé A Divided House, fut diffusé le 21 mars 1980. Les téléspectateurs durent attendre tout l'été et même une bonne partie de l'automne à cause d'une grève des acteurs de Hollywood (dont Hagman), pour apprendre si J.R. survivrait et lequel de de ses nombreux ennemis était le coupable.

Des T-shirts furent imprimés arborant des phrases comme Who shot J.R.? puis I shot J.R., et furent très courants durant tout l'été. Les entreprises de pari du monde entier organisèrent de fortes mises sur les 10 personnages principaux. Une session du parlement turc fut même interrompue pour permettre aux législateurs de rentrer à la maison à temps pour voir l'épisode de révélation.

Pendant la campagne présidentielle de 1980 (qui mena à l'élection du républicain Ronald Reagan), les républicains diffusèrent un pin's officiel affichant a democrat killed J.R., qui selon quelques sources ne fut pas pour rien dans le triomphe de Reagan.

Ronald Reagan lui-même déclara dans un discours qu'il n'aurait aucune difficulté à financer sa campagne s'il savait qui avait tué J.R (en référence aux mises extraordinaires atteintes pas les paris).



Larry Hagman bientôt dans Desperate Housewives ? C'est Voici qui en parle, le 11 décembre 2010
Une suite à Dallas ? Le journal Le Parisien du 30 septembre 2010 en parle.

Sur le site Nowhere Else : "Dallas Wars, quand Star Wars rencontre Dallas".

Dallas inspire même le théatre, puisqu'un spectacle intitulé : "NOTRE DALLAS", a été présenté au Théâtre Gyptis, du 20 au 24 janvier 2009, à Marseille. Pour en savoir plus.

Larry Hagman, Linda Gray, Patrick Duffy, Steve Kanaly et Charlene Tilton sont venus en France à l'occasion du Festival de Mirande, qui s'est tenu du 11 au 15 juillet 2007. On les a vus sur LCI le 10 juillet 2007 et entendus sur Europe 1 le 13 Juillet 2007. Des objets leur appartenant ont été vendus le 10 juillet au profit de l'association Hôpital Sourire.
La chanson du feuilleton télévisé Dallas
Voici les paroles de la chanson du générique français de Dallas. Grâce à elle, pour nous tous, Dallas est "ton univers impitoyable" !
"Who Killed J R ?
France wants to KNOW! ("Who killed JR?")I'm Just Saying for the record if You Have Any HAD sleep and run Into this post and video On The French obsession with Dallas and "Who shot J R "Stop in and check her out!"Who shot J R ? was a tagline that CBS invented in 1980 to promote the television series Dallas. Emergence of the issue and speculation In the final scene of the 1979-1980 season the character of J R Ewing played by Larry Hagman was shot by an unidentified individual.
Dallas Your ruthless world Glorify the fittest And under your relentless sun You do not dread that death Homeland dollar oil You do not know mercy The revolver is your idol You cling to your past Woe to him who did not understand One day he will die (Mr Salava - J Fox) Francis Dreyfus Music Orchestration: John Costa (P 1981 Sony Music Entertainment (France) S A Who shot J R ? The episode entitled "A House Divided was released March 21, 1980.Viewers had to wait all summer and even much of the fall due to a strike by Hollywood actors (including Hagman) to learn whether JR would survive and which of his many enemies was the culprit. http://dallasjr.free.fr/images/fond.gif T shirts were printed bearing phrases such as Who Shot JR? then I shot JR and were very common throughout the summer.Companies around the world organized bet high stakes on the 10 main characters.A session of the Turkish parliament was even suspended to allow legislators to get home in time to see the episode of revelation. http://dallasjr.free.fr/images/jrsondaj.jpg During the presidential campaign of 1980 (which led to the election of Republican Ronald Reagan) the Republicans diffused a pin showing a democrat Official Killed JR who according to some sources was not for nothing in the triumph of Reagan.Ronald Reagan himself enlightens in a speech he would have no difficulty financing his campaign if he knew who had shot JR (in reference to being with extraordinary not paris).Larry Hagman soon Desperate Housewives?'Here is who speaks on 11 December 2010 A sequel to Dallas?The newspaper Le Parisien on September 30, 2010 talking about it.Nowhere Else on the site: "Dallas Wars when Star Wars meets Dallas."Dallas inspires even the theater since a show called "OUR DALLAS" was presented at the Theatre Gyptis of 20 to 24 January 2009 in Marseille.Learn more.Larry Hagman Patrick Duffy Linda Gray Steve Kanaly and Charlene Tilton came to France at the Mirande Festival held from July 11 to 15, 2007.We saw them on July 10, 2007 LCI and Europe agreed on a July 13, 2007.Objects belonging to them were sold July 10 to benefit the association HOSPITAL smiling.The song of the television series Dallas Here are the lyrics of French energy of Dallas.Through it all for us is Dallas' your ruthless world!You can find this song and many other French energy of your favorite shows ("Charlie's Angels" "Mission Impossible" Cosmos 99 "" Bioman "" Sincerely Yours "" The Prisoner of 1970-1980 on "...) cassette or CD "No. 1 TV" at Universal.Discover the "A Primer to convince your friends to follow your favorite" written by Michel Robert and enjoy exclusive online advice that only our site could offer.Nicolas Fourny wrote a fascinating article on "automobile in Dallas".A discover emergency!French dubbing Paturel Dominique Marie-Martine and Edgar Givry French voices respective Katherine Wentworth and JR Mitch Cooper agreed to answer a few questions about their work doubling our favorite series.I thank them very much!Frederick magazine offers "Knitting with the stars of Dallas."Dallas After the death of Howard Keel in the November 2004 death of Barbara Bel Geddes in August 2005.Dallas one day at the movies?The idea seems definition abandoned.The casting has yet been much ink.On August 4, 2006 it was announced that Jennifer Lopez did not show up in Dallas.New twists October 13, 2006 on the site allocine.fr.From east silence. Dallas continues to appear on television regularly.It was broadcast on Vivolta from 10 December 2007 and on France 3 from 3 January 2005 with breaks during school holidays.A replay on TQS in Quebec ended May 17, 2005.Dallas had previously been re-broadcast on TF1 from Monday, October 11, 1999 to Thursday, April 12, 2001.It was also seen in Belgium in 2004-2005 on AB4.Page Fan Club robs West Dallas Yes adheres to the Fan Club Dallas Fan Club Dallas robs West is sleeping now, because its president Lawrence no longer has time to deal with.However, you will find on this page photos of parties in 1999 and 2000 who had gathered many fans from Dallas and took off west.Evening of June 3, 2000 at Perray The evening was attended by about twenty fans from all over France, Belgium and Switzerland around a table worthy of the best dinners of Southfork.A friendly atmosphere has allowed everyone to have fun and meet to discuss the actors Michel Paulin and Anne Roche who lend their voices to Gary and Val takes off in West and each could appreciate the kindness and availability.All were able to admire and even buy items and new books true collectibles watch the show "Dallas Night" which was broadcast on Channel 4 in April 2000 as well as episodes of Dallas in VO.In short, a very enjoyable evening that has ecu person instead!On the evening of June 3, 2000 Evening of September 25, 1999 in Paris Forty fans of all ages from all over France and Belgium came together Saturday, September 25, 1999 at Planet Hollywood on the Champs-Elysees in Paris for an inert "dallasséen" in the presence of a person working TF1 ' specialized actors in film dubbing.Photos and books were exchanged and heated discussions have taken on West Dallas and removes many other series or movies.Because the members are for many cinema lovers and connoisseurs of modern television series or older.Susan Howard (member honor of the fan club) 13 16 17 and 18 April 2001 the French fans were finally able iscover the two films 1996 and 1998 previously unreleased in this country.We reviewed "The Return of J R " Jimmy in 2005.Read an interview with Larry Hagman, 19 April 2005 on the site DHNet.be xplore and a fan of Larry Hagman: I Dream of Larry.The "bible" of the Dallas fans: the book "Dallas" by Laura Van Wormer 1985 that are still found occasionally for example PriceMinister.com: Dallas is a trademark of Lorimar Television Productions éposée.Interview with Claude Bobin Author of the book "the odyssey of Ewing Dallas Texas" Claude Bobin How did you get the urge to write this book?I just wanted to share my passion for soap operas Dallas and the like and then also get the message that these American productions are not just stories for public ébiles moron.It seems that if one wants to bother looking for the meaning of stories Dallas tackles important issues like the rights of women rape alcoholism or homosexuality (which was a forerunner in 1978).And then I regretted that most books about Dallas are never translated for the French public and therefore I proposed this book to my editor.I confess that the most difficult to write this book was to sort of information available to me since I collect books and journals on the series for almost 20 years.The first part is a selection of anecdotes and analysis on various aspects of the series.I wanted this book is also a guide to the series and so I spent a lot of time writing the "novel" of the series since it was impossible in terms of place to recount each episode separately.When did you iscovery Dallas?I was 10 in 1981 when Dallas came to France.I watched this with the whole family and it was part of the conversation Sunday as my aunts and uncles and my grandmother were also frequent viewers.Later I started to keep the photos of the actors in magazines and then 'became a collection.And when I started to work and have a little pocket money I buy books in the U S and my collection now includes hundreds of different objects.What do you like in this series?I want to say ALL.I am a huge fan ...More prosaically I love the characters especially Sue-Ellen is the only character for me to have really evolved over the seasons from the wife without major service to the alcoholic women to finish before the case can be face JR.All other characters are also interesting as Bobby who manages to never fall into the slyness of his brother or funny as Lucy.A very important element of the series is the image of the family that reference.While Bobby and JR and Ray spend their time fighting that Sue-Ellen wants to send her husband to hell and Ellie sees a dim view of his senior shenanigans if someone outside has to attack the one of them he will face the entire clan.A family near ideal.And then there's the decor (the beautiful Southfork Ranch) actors and actresses (There is a pool not only for Southfork Kristin can drown but especially to have a reason to show finery Pam or Bobby ) and then the big ball gowns fights in the pool the right words ...JR etc.Dallas is also a door on many other things.I have been discovered country music and participate in festivals or the atmosphere was great I been discovered Elvis Presley I wanted to go to the United States and I have been discovered a beautiful country ...And then I even met some of my best friends through our shared passion for Ewing ...What other modern and ancient series do you like?I admit a certain nostalgia for many series of the 70s and 80s I rediscovered today by the grace of the DVD.Of course I have the same passion for robs West and Falcon Crest as Dallas.Dynasty tends to make me smile but I like its taken away "bling bling" before the time ...I'm also a fan of Star Trek all series and movies with a preference still for Deep Space Nine, which combines good SF series removed a very pleasant.I appreciate very much also to review episodes of Wonder Woman of the Six Million Dollar Man I also like Babylon 5 V (with Marc Singer) and many others.In more recent series have been discovered the excellent Doctor Who and its spin-off Torchwood in the English television: the very good science fiction and more raises big questions.I'm also a fan of Queer as Folk (American version of a British series that recounts the misadventures of five gay friends in a big city).There are many good series on TV I find it unfortunate that we consider a series in France is a commercial product used to frame two spots pubs.Do you have other books in preparation?Before this book I wrote about Dallas a novel by science-fiction (I prefer to say Fantasy) kind of story called The Legend of Rumi and Len'rété.He says the race against death of two men étenteurs a terrible secret that could affect the survival of their world.Is also a story of love hymn to tolerance and a regard for our current society through the prism of fiction.I am currently working on a saga that I probably was partly inspired by Dallas.The story of an American billionaire and a slew of characters who will be around him a strange family.Without revealing the substance of the plot thread of the story is a love triangle one of whose characters died in horrific circumstances.I addressed all the issues that are dear to my Oeur: homosexuality childhood family secrets loneliness of death ...The 3-volume novel entitled Until love between us are being released (the first 2 are available on 3 is planned between now and the end of 2008) Lready I work on a sequel to the best and the Empire.I also have a project a little book about Star Trek, but for now I will say no more ...See you in 2009 ...Something to add?Speaking of Wonder Woman a little info that is not necessarily well known: in an episode titled Bomb the future ébarquent two landowners in the U S in 1978.The first Cassandra wants to use his knowledge historian of the future to make a fortune and Adam follows her to stop with the help of Wonder Woman CONDUCT change the time.Cassandra is played by Joan Van Ark and Ted Shackelford by Adam ... Vous pouvez trouver cette chanson et bien d'autres génériques français de vos séries préférées ("Drôles de Dames", "Mission Impossible", "Cosmos 99", "Bioman", "Amicalement Vôtre", "Le Prisonnier"...) des années 1970-1980, sur la cassette ou le CD "N°1 TV", chez Universal.

Découvrez le "Petit manuel pour convaincre vos amis de suivre votre série préférée"rédigé par Michel Robert et profitez des conseils exclusifs en ligne que seul notre site pouvait vous offrir. Nicolas Fourny a rédigé un passionnant article sur "L'automobile dans Dallas".A découvrir d'urgence !

Les doublages Français

Dominique Paturel, Marie-Martine et Edgar Givry, les voix françaises respectives de J.R., Katherine Wentworth et Mitch Cooper ont accepté de répondre à quelques questions concernant leur travail de doublage de notre série préférée. Je les en remercie vivement !
Frédéric vous propose le magazine "Tricoter avec les vedettes de Dallas".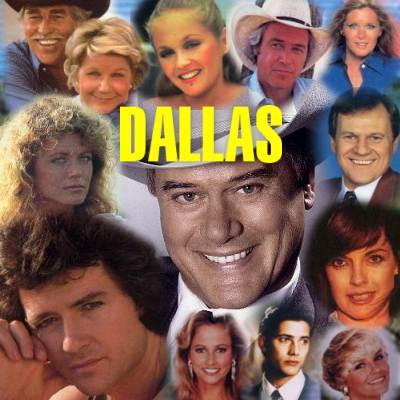 Après la mort de Howard Keel en novembre 2004, la mort de Barbara Bel Geddes, en août 2005.
Dallas un jour au cinéma ? L'idée en semble définitivement abandonnée. Le casting a pourtant fait couler beaucoup d'encre. Le 4 août 2006, on annonçait que Jennifer Lopez faisait faux bond à Dallas. Nouveaux rebondissements le 13 octobre 2006 sur le site allocine.fr. Depuis, c'est le
silence.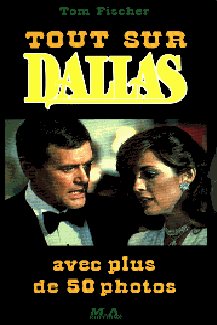 Dallas continue de passer à la télévision régulièrement. Il a été diffusé sur Vivolta à partir du 10 décembre 2007, sur Jimmy à partir du 1er mars 2003, et sur France 3 à partir du 3 janvier 2005, avec des interruptions pendant les vacances scolaires.
Une rediffusion au Québec sur TQS a pris fin le 17 mai 2005. Auparavant, Dallas avait été rediffusé sur TF1, du lundi 11 octobre 1999 au jeudi 12 avril 2001. On l'a vu aussi en Belgique, en 2004-2005 sur AB4.
La page du Fan-Club Dallas Côte Ouest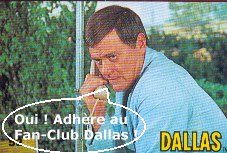 Le fan-club Dallas Côte Ouest est en sommeil actuellement, car son président, Laurent, n'a plus le temps de s'en occuper. Vous trouverez néanmoins sur cette page les photos des soirées de 1999 et 2000 qui avaient réuni de nombreux fans de Dallas et Côte Ouest.
Soirée du 3 juin 2000, au Perray
Cette soirée a rassemblé une vingtaine de fans, venus de toute la France, de Belgique et de Suisse, autour d'une table digne des meilleurs diners de Southfork. Une ambiance sympathique a permis à tous de s'amuser, de discuter, et de rencontrer les acteurs Michel Paulin et Anne Rochant, qui prêtent leur voix à Gary et Val dans Côte Ouest, et dont chacun a pu apprécier la gentillesse et la disponibilité.
Tous ont pu admirer, et même acheter, des articles et des livres inédits, véritables objets de collection, regarder l'émission "Dallas Night", qui avait été diffusée sur Channel 4 en avril 2000, ainsi que des épisodes de Dallas en V.O..
En bref, une soirée très agréable qui n'a déçu personne, au contraire !
Soirée du 25 septembre 1999 à Paris
Une quarantaine de fans de tous âges, venus de la France entière et de Belgique, se sont retrouvés le samedi 25 septembre 1999, au restaurant Planet Hollywood, sur les Champs-Elysées à Paris, pour un dîner "dallasséen", en présence d'une personne travaillant à TF1 et d'acteurs spécialisés dans le doublage de films.
Des photos et des livres se sont échangés et des discussions passionnées se sont engagées sur Dallas, Côte Ouest et bien d'autres séries ou films. Car les adhérents sont pour beaucoup des cinéphiles avertis et des connaisseurs en matière de séries télévisées modernes ou plus anciennes.
Les 13, 16, 17 et 18 avril 2001, les fans français ont enfin pu découvrir les deux téléfilms de 1996 et 1998, jusqu'alors inédits dans notre pays. On a revu "Le Retour de J.R." en 2005, sur Jimmy.
Lisez une interview de Larry Hagman du 19 avril 2005 sur DHNet.be et découvrez le site d'un fan de Larry Hagman : I Dream of Larry.
La "bible" des fans de Dallas : le livre "Dallas" de Laura Van Wormer, de 1985, que l'on trouve encore d'occasion, par exemple sur PriceMinister.com :
Interview de Claude Bobin
Auteur du livre "Dallas, l'odyssée des Ewing du Texas"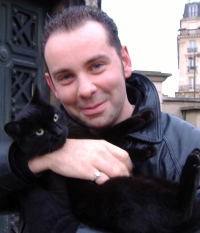 Comment vous est venue l'envie d'écrire ce livre ?
Je voulais tout simplement partager ma passion pour Dallas et les feuilletons du même genre, et puis aussi faire passer le message que ces productions américaines ne sont pas que des histoires débiles pour public crétin. Il me semble que si l'on veut se donner la peine de chercher le sens des histoires, Dallas aborde des sujets importants, comme les droits des femmes, le viol, l'alcoolisme, ou encore l'homosexualité (ce qui était précurseur en 1978). Et puis je regrettais que la plupart des livres sur Dallas ne soient jamais traduit pour le public Français et donc j'ai proposé ce livre à mon éditeur.
J'avoue que le plus difficile pour écrire ce livre à été de faire le tri des informations à ma disposition, vu que je collectionne livres et journaux sur la série depuis près de 20 ans. Le première partie est donc une sélection d'anecdotes et d'analyses sur les divers aspects du feuilleton. Je voulais que ce livre soit aussi un guide de la série et donc j'ai consacré beaucoup de temps à écrire le "roman" du feuilleton, puisqu'il était impossible en terme de place de raconter chaque épisode séparément.
Quand avez-vous découvert Dallas ?
J'avais 10 ans en 1981 quand Dallas est arrivé en France. Je regardais ça avec toute la famille, et cela faisait partie des conversations du Dimanche puisque mes tantes et oncles ainsi que ma grand-mère étaient également des téléspectateurs assidus.
Plus tard, j'ai commencé à garder les photos des acteurs dans les magazines, et puis c'est devenu une collection. Et quand j'ai commencé à travailler et à avoir un peu d'argent de poche, j'ai acheté des objets, des livres aux USA, et aujourd'hui ma collection comporte plusieurs centaines d'objets divers.
Qu'appréciez-vous dans cette série ?
J'ai envie de dire TOUT. Je suis un fan inconditionnel…
Plus prosaïquement, j'aime beaucoup les personnages, en particulier Sue-Ellen qui est pour moi le seul personnage à avoir réellement évolué au cours des saisons, passant de l'épouse sans envergure à l'alcoolique de service avant de finir femme d'affaire capable de faire face à JR. Tout les autres personnages sont également intéressants, comme Bobby qui parvient à ne jamais tomber dans la sournoiserie de son frère, ou rigolo comme Lucy. Un élément très important du feuilleton est l'image de la famille qu'il renvoi. Même si Bobby et JR et Ray passent leur temps à se battre, que Sue-Ellen souhaite envoyer son mari en enfer et que Ellie voit d'un mauvais œil les magouilles de son aîné, si quelqu'un d'extérieur vient s'en prendre à l'un d'eux, il devra affronter tout le clan. Une famille quasi idéal. Et puis il y a le décor (le magnifique ranch de Southfork), les acteurs et actrices (Il y a une piscine à Southfork pas uniquement pour que Kristin puisse s'y noyer mais surtout pour avoir une raison de montrer les beaux atours de Pam ou de Bobby) et puis les robes du grand bal, les bagarres dans la piscine, les bons mots de JR, etc... Dallas est aussi une porte sur bien d'autres choses. J'ai découvert la musique country et participer à des festivals ou l'ambiance était formidable, j'ai découvert Elvis Presley, j'ai eu envie d'aller aux Etats-Unis et j'y ai découvert un pays magnifique… Et puis j'ai même rencontré certains de mes meilleurs amis grâce à notre passion commune pour les Ewing…
Quelles autres séries modernes et anciennes aimez-vous ?
Je reconnais une certaine nostalgie pour beaucoup de séries des années 70 et 80, que je redécouvre aujourd'hui par la grâce du dvd. Bien entendu, j'ai la même passion pour Côte Ouest et Falcon Crest que pour Dallas. Dynastie à plutôt tendance à me faire sourire mais j'aime bien son côté "bling bling" avant l'heure… Je suis également fan de Star Trek, toutes les séries et les films, avec une préférence tout de même pour Deep Space Nine qui allie à de la bonne SF un côté feuilleton très agréable.
J'apprécie beaucoup aussi de revoir des épisodes de Wonder-woman, de l'homme qui valait trois milliards, j'aime aussi Babylon 5, V (avec Marc Singer), et beaucoup d'autres. Dans les séries plus récentes, j'ai découvert l'excellent Doctor Who et son spin-off Torchwood, de la télé anglaise : de la très bonne science-fiction qui en plus pose de grandes questions. Je suis aussi fan de Queer as folk (la version américaine d'une série anglaise qui raconte les mésaventures de 5 amis homosexuels dans une grande ville). Il y a beaucoup de bonnes séries à la télé, je trouve dommage que l'on considère en France qu'une série n'est qu'un produit commercial servant à encadrer deux spots de pubs.
Avez-vous d'autres livres en préparation ?
Avant ce livre sur Dallas, j'ai écrit un roman de science-fiction ( je préfère dire Fantasy), sorte de fable intitulée La légende de Rouma et Len'rété. Il raconte la course contre la mort de deux hommes détenteurs d'un terrible secret pouvant nuire à la survie de leur monde. C'est aussi une histoire d'amour, un hymne à la tolérance et un regard porté sur notre société actuelle à travers le prisme de la fiction.
Je travaille actuellement sur une grande saga qui m'a sans doute été partiellement inspirée par Dallas. L'histoire d'un milliardaire américain et d'une flopée de personnages qui vont faire autour de lui une étrange famille. Sans révéler le fond de l'intrigue, le fil rouge du récit est un triangle amoureux dont l'une des personnages est mort dans d'horribles circonstances. J'y aborde tout les thèmes qui me tiennent à cœur : l'homosexualité, la famille, l'enfance, les secrets, la solitude, la mort… Les 3 tomes de ce roman intitulé Jusqu'à ce que l'amour nous sépare, sont en cours de parution (les 2 premiers sont disponibles, le 3 est prévu d'ici à la fin 2008) Je travaille déjà sur une suite intitulée Pour le meilleur et pour l'Empire. J'ai également un projet d'un petit livre sur Star Trek, mais pour l'instant je n'en dirai pas plus… Rendez-vous en 2009…
Quelque chose à ajouter ?
Puisque je parle de Wonder-Woman, une petite info qui n'est pas forcément très connue : dans un épisode intitulé Bombe à retardement, deux terriens du futur débarquent aux USA de 1978. La première, Cassandra, veut se servir de ses connaissances d'historienne du futur pour faire fortune, et Adam la suit pour l'empêcher, avec l'aide de Wonder-Woman, de modifier le déroulement du temps. Cassandra est interprétée par Joan Van Ark, et Adam par Ted Shackelford…
Sites en Français
Il existe de nombreux sites en anglais sur Dallas.
Les actrices
Les acteurs
Les sites en anglais
The Ultimate Dallas Site: un site très complet, d'aucuns diront "le" site sur Dallas.
The Internet Movie Database (IMDb) : une énorme base de données sur le cinéma et les acteurs.
TV Tome - guide to the television shows you love, une importante base de données sur les séries télé. Vous pouvez effectuer une recherche par nom de série ou d'acteur.
Dallas Fan Club Stuttgart, en allemand et en anglais. Très complet : nombreux résumés des épisodes, téléfilms, mini-séries. Même si vous ne comprenez pas, vous verrez de belles photos.
The Museum of Broadcast Communications : à la lettre "D", vous trouverez une page consacrée à Dallas.
Dallas (a Titles and Air Dates Guide) : Un guide des épisodes de Dallas.
Tous les liens de famille des personnages de Dallas.
Southfork Ranch, Dallas, Texas : Le site du vrai ranch de Southfork
soundamerica.com : comme son nom l'indique, ce site répertorie des sons. Vous trouverez de nombreux génériques américains de Dallas - écrit "dalas" !.
Cadillacs in the movies : une liste de films dans lesquels figurent des Cadillacs, Dallas en fait partie.
Le vrai site des vrais Producteurs Indépendants du Texas, un site très sérieux.
Un petit site comprenant la liste des acteurs, un résumé et des liens.
  (« Qui a tué J. R. ? ») i'm just saying for the record, if you haven't had any sleep and run into this post and video on the French obsession with Dallas and « Who shot J. R. », stop in and check her out!   Dallas Ton univers impitoyable Dallas Glorifie la loi du plus fort Dallas Et sous ton solei ...» more Dogmeat